The guest post today is from Chris Beardsley, a dedicated athlete who trains both his body and his mind for success.  You can find more of Chris's writing at The Garage Gym Online or at East Leake Personal Training.  
Great athletes are an inspiration to us all. They make tremendous sacrifices, and they push themselves harder than you and I could ever imagine. Because of their determination to succeed, they do things differently, and they have a different perspective on things.
By looking back at the lives of some of the greatest athletes, we can see what they do, that normal people don't do. We can see what kind of perspectives, habits and tendencies they have that make them great.
So, what do great athletes do, that normal people don't do?
They show up
Dan John is fond of saying that one of the most important things to remember, as an athlete, is to show up. It sounds silly but unless you show up you will never know whether you could have won. And since so many people fail to abide by this rule, the competition is never as fierce as you might imagine. What's more, you will succeed in other ways, just by putting the time in. A good example of this habit is Geoff Capes.
Geoff Capes is a household name in the UK. He is one of the most well-known and likeable sports personalities of the 1970's and 1980's. Of course, part of that recognition is down to his appearances as a professional athlete in World's Strongest Man but he was certainly very popular before that too.
And yet, Geoff never set a world record and he never achieved his true potential at the Olympics, throwing only well enough for sixth place in the 1976 Montreal Olympics and fifth place in the 1980 Moscow Olympics. Sadly, his throws at other competitions prior to the final were further than the winning distance but he just wasn't able to perform at the right level on the day.
So how did Geoff achieve such renown, despite never winning an Olympic medal? Simple. He showed up. Even today, he remains the most capped British athlete of all time. He represented his country no less than 67 times over his career, a total that has never been beaten.
They bounce back
How many people do you know who have started out well and then become disillusioned? Quite a few, I would guess. The mark of a great athlete is that when the produce a substandard performance, they bounce back from it and achieve better things. With that in mind, let me tell you about the great British athlete, Colin Jackson.
Colin Jackson was one of the greatest hurdlers the world has ever seen but, like Geoff Capes, his Olympic record would not tell you that story. His only Olympic medal was silver in Seoul, which at the time he was very happy with. He had been competing as a junior only two years previously and was just starting his international athletics career.
However, Colin was unable to better his silver medal performance four years later, as he was badly injured in the heats before the 1992 Olympic final in Barcelona, when he suffered a torn intercostal muscle. He was also injured for the 1996 Atlanta Olympics and actually put off having a serious knee operation for after the games to give himself the best chance. In the end, he came fourth in a very close finish.
However, Colin didn't hide in a hole and lick his wounds after his first Olympic disappointment in 1992. Ten days after the Olympics, there was a track meet in Switzerland, which all of the finalists in the Olympics attended. Colin turned up, still rehabbing his injury, and wiped the floor with everyone, including the new Olympic champion, in a time faster than the new champion had achieved in the Olympic final. And he continued to bounce back after that.
In the 110m hurdles alone, Colin took gold in all four European Championships from 1990 through to 2002. He won gold in the 1993 and 1999 World Championships and silver in 1997. And he won gold in the 1990 and 1994 Commonwealth games. That's not to mention his role in relay and indoor races!
To cap it all, at the 1993 World Championships, Colin set a world record of 12.91 seconds in the 110m high hurdles. This record was unbeaten for almost thirteen years and remains the World Championship record. And at the 1994 world indoor championships, Colin set a world indoor record at the 60 metres hurdles with a time of 7.30 seconds. This record still stands, 17 years later!
After his Olympic disappointments, nobody would have been surprised if Colin had decided not to continue. But he bounced back; and because of that he is now regarded as one of the most talented and successful hurdlers of all time.
They overcome adversity
Some of the greatest athletes are often those who have had to overcome some of the worst challenges and adversities. It often seems to me that an athlete is made by their experiences in fighting through those difficult situations early on. Let's take a look at Paula Radcliffe, the UK marathon runner and world record holder and her constant battle with injury.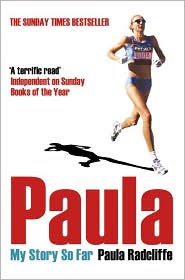 Few people know much about Paula Radcliffe other than that she is the current world record holder for the women's marathon and that she had to stop for a comfort break during the 2005 London Marathon.
And those few that do know more probably don't have a handle on just how many injuries she has suffered over the years while performing at the highest possible level in her sport. Fortunately, for those with more than a passing interest in athletics, she describes them in her autobiography.
According to her autobiography, as early as 1994 suffered a stress fracture most likely caused by a fallen arch. In 1996, she twisted back during a cross-country race, moving her back out of alignment, leading to her hamstring pulling away from the bone, which needed considerable rehabilitation.
In 2000, Paula twisted her knee standing up from kneeling on the floor, causing a blister in joint that had to be operated on. In 2002, she aggravated the soft tissue in knee because of a shoe problem and also bent her little toe back by accidentally banging it against a door, causing tenosynovitis.
In 2003, a small child rode their bike into the side of Paula during a training run and she fell badly, causing a dislocated jaw, whiplash and severe bruising. In 2003, she also suffered crepitus in her right shin, which had been aggravated by poor blood supply from her right hip. In the same year, she suffered two partially punctured lungs caused by coughing and in 2004 she had femoral and inguinal hernias. It was a year of bad luck, you might assume.
In 2004, in another freak accident, Paula trod on a pine cone during cross-country training and aggravated big toe muscle. Later that year, crepitus struck again but this time it occurred in the left vastus medialis, caused by a large haematoma near the femur.
In 2005, Paula suffered a parasitic infection, which caused the runner's diarrhoea at the 2005 London Marathon. It was consequently diagnosed as being precipitated by gluten and diary intolerances. At the World Championships later that year, a pile up in the 1,500m caused her to fall and twist her back again, moving her sacrum and pelvis out of line, which required a great deal of rehabilitation.
And in the middle of all of this, Paula ran her first ever marathon in 2002 and won it. She followed it up with the world record in the same race in 2003. Yes, 2003. You know, that year when she had all that bad luck…
They want to succeed
Graeme Obree is deservedly famous for being the Scotsman who used a bicycle made out of washing machine parts to take the World Hour Record from Francesco Moser.
Even if you have already heard the story, it bears another telling because there is an important detail that is often left out. Are you sitting comfortably? Well, in July 1993, Graeme took his homemade bicycle to Oslo, in Norway, to attempt to cycle further than anyone else had ever done on a track in one hour.
Now, you need to know that Graeme actually took two bikes with him to Oslo. This was a requirement of the rules set by the governing body that regulates the World Hour Record. He took his old, homemade bike and a newer one, built as a replica by the same engineer who built Chris Boardman's Lotus bike.
On the day of his record attempt, Graeme rode the replica but failed. Yes, he failed! Not many people know that. Exhausted but still determined to succeed, he told the press he would repeat the ride the following day, but this time on his homemade bike. Everyone thought he was insane. Previous contestants of the record had variously described the event as the hardest thing they had ever done and claimed it had taken years off their lives. And Graeme was going to ride twice within 24 hours.
Nevertheless, first thing the next morning, Graeme rocked up to the track just 10 minutes before he was due to begin and rode himself to complete exhaustion, in agony from 30 minutes in. He said afterwards that his feet, ankles, hands, face, scalp and "sitting parts" were completely numb and that his leg muscles were simply on fire. However, he rode an official distance of 51.596km, up on Moser's record of 51.151km. He set a new record. Why did he do this to himself?
Graeme explained his mental state in an interview with Michael Hutchinson, another great British cyclist. He said that between his two attempts on the World Hour Record, he had arrived mentally at a place in which he wanted to succeed so badly that he would rather have died than failed. Yes, he would rather have died. How badly do you want to succeed?
So what makes a great athlete?
Great athletes are not complicated. They do simple things. However, they do them with incredible passion and intensity. They show up, they bounce back from disappointment, they overcome adversity and they have a desire to succeed that burns like a flame through any obstacle, weakness or setback.
We can learn from this, whether it's for our own athletic endeavours or in any other area of life.
References
The factual information in this article was drawn from the athletes' own autobiographies and other works, as follows:
Big Shot by Geoff Capes
Colin Jackson: The Autobiography by Colin Jackson
Paula: My Story so Far by Paula Radcliffe
Flying Scotsman by Graeme Obree
The Hour by Michael Hutchinson
Related Posts:  Interviews with Elite Olympic Hopefuls